Wisconsin State Journal, October 29, 2012, by Doug Moe
http://bit.ly/VXTWJb
OCTOBER 29, 2012 8:00 AM •
DOUG MOE | WISCONSIN STATE JOURNAL | DMOE@MADISON.COM | 608-252- 6446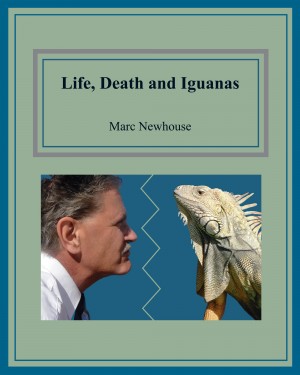 It took a seismic event for Marc Newhouse to fall prey to what he calls the family curse.
"In the year that followed my mother's death," he wrote, "I spent a lot of time looking at iguanas."
But iguanas are not the Newhouse family curse, which is not really a curse at all.
What the death of Franny Newhouse — in May 2010, at age 89, in the living room of her home outside Blue Mounds — did was propel her youngest son, Marc, now 55, to write her story, which became the Newhouse family story. That story, set largely in the Madison area, is one of writers.
Marc, whose book is titled "Life, Death and Iguanas," came late to the game.
John "Jack" Newhouse — Franny's husband, and Marc's dad — was a revered Madison newspaperman. He could write well on virtually any subject and contributed pieces to the State Journal even after his retirement in 1974.
Newhouse wrote a short biography of the colorful sports columnist Joseph "Roundy" Coughlin. Jack was something of a character himself, the last reporter to wear his hat in the newsroom.
"With necktie askew," his colleague Louise Marston noted, "this man loped in and out of the office, always on the prowl for a good story."
Jack and Franny met on the staff of the Rockford Morning Star. She wrote crime stories, and ran the paper's library, back when it was called the morgue. She loved grammar and language.
The couple moved to Madison in 1943. Franny stayed home raising their sons — Eric, John and Marc — while Jack wrote his stories for the State Journal. Much later, after Jack's death in 1993, Franny began writing poems that in 2008 were collected in a lovely book titled "Second Welcome."
The eldest son, Eric, became the writing star of the family. It was destiny of a sort. Listening at the dinner table to his dad's tales of the day's reporting made Eric want to be a newspaperman. He edited the West High paper, and, at UW-Madison, the Daily Cardinal.
Eric spent nearly two decades working for The Associated Press before joining the Great Falls Tribune in 1988. At AP, he was a bureau chief and moved away from telling stories. In Montana, Eric began writing again, and one of his stories — actually a series on the devastation of alcoholism — won the biggest newspaper prize of all, the Pulitzer, in 2000.
The middle son, John, became a lawyer, while Marc, the youngest, graduated UW- Madison with a nursing degree. Marc has lived in Puerto Rico for 20 years, until recently working as an English teacher.
It was when Marc was laid off from that job that he began to write a blog that eventually became "Life, Death and Iguanas," which is available as an e-book from Amazon.
Or as Marc put it, in a recent phone interview from Puerto Rico, "The family curse finally came out."
If losing his job gave Newhouse the time to write, it was the emotional weeks preceding Franny's death that forced the issue and gave the new book its narrative frame and power.
By early spring 2010, Franny, close to 90, was nearly blind, with limited mobility. Her mind, once so sharp, was slipping. She was occasionally disoriented. It was likely either a deep depression or the beginning of Alzheimer's.
Franny had long stated she had no desire to spend her last days in a diminished state in a nursing home. Leaving the doctor's office with Marc, she said, "What are we going to do with old Mother?"
What did happen — a decision arrived at by Franny and her three sons — culminated in what Marc called "the best death I've ever seen."
But first, there were bitter words between the brothers, which Marc duly records. His is an intimate portrayal, and that extends to a discussion of his own sexuality, of how it was not easy being gay in Madison in the 1970s, and how, today, with his longtime partner, Rafael, whom he married in Massachusetts in 2008, he is as happy as he has ever been. The brothers also made their peace.
There is much more in Marc's book, including family photos, a description of building the family home near Blue Mounds, and stories of famed neighbors and friends like composer Gunnar Johansen and scientist Karl Paul Link.
There are iguanas, too. It makes a memorable stew, served up by the newest writer in a family more blessed than cursed.
Contact Doug Moe at 608-252-6446 or dmoe@madison.com. His column appears Monday, Wednesday, Friday and Sunday.
Doug Moe
Doug Moe writes about Madison and the people who make it a unique place. His column runs Mondays, Wednesdays, Fridays and Sundays in the State Journal.
NOTE: The cover image utilized by the author is an earlier version of the final one. See the final cover below!
__________________________________________________
OneTitle Reviews, November 29, 2012,
by Kelly B.
http://bit.ly/XMd0EF
Life, Death and Iguanas, a delightful yet ultimately sad non-fiction story by Marc Newhouse, rolls around and through the landscapes of Wisconsin, bringing us gently into "the cabin that Jack built." Interspersed photos pop up throughout the book and brings the readers back to the reality that Frannie, the true to life heroine suffering from Alzheimer's, is indeed real, as is the family's pain and struggle to come to the decision about how she will chose her own death, on her own terms.
We are equally involved in the authors' personal struggles, intertwining his own battles with depression, life in the 70′s as a homosexual, and a somewhat dizzying account of a varied and colourful family, friends and neighbours. Once the lively and eccentric people within the book come to life, we are reminded of the certainty of Fran's planned death and the reader is left in an almost agonizing wait to read how this inevitable scene will play out. One wishes the paragraphs describing the local idiosyncratic "Wisconsinites" to go on indefinitely, yet evokes within the reader a slight dread of the forthcoming narration of Frannies' last week in the cabin. The reader feels re-assured that her death is not in vain. Marc Newhouse portrays the full and wonderful life that his mother has experienced and her everlasting influence on the family as a whole. Even among family quarrels and differing opinions, the discussions about how to pull off a legal suicide is replete with dark humour as well as with narration touching upon quirky "mystery" diseases the author is convinced he is experiencing. And then of course, there are the iguanas.
The references to iguanas throughout the story border on the comedic and what comes to mind is the image of the two masks of theatre: tragedy and comedy. The author reveals, shortly after his Mothers' passing, the significance of the climbing and falling patterns of the iguanas. In the end, Marc Newhouse successfully weaves the nature of man's perseverance and the desire to live and die as we choose in a delightful and inspirational way.
-Kelly B.
_____________________________________________
Amazon Costumer Reviews
http://amzn.to/WAWKKg
5.0 out of 5 stars On Courage & Love, January 25, 2013
By jec
This review is from: Life, Death and Iguanas (Kindle Edition)
This book is one of the best I've read in a very long time. It's a very personal story about the courage of a strong woman who, despite her love of life, by choosing the time and means of her death, leaves a mother's lesson on courage, love and acceptance; the experience of one man in his journey of discovery to find the strength to live despite overwhelming pain and loss. I found this book thoughtful and personally meaningful. I'm looking forward to reading more books by this author.
5.0 out of 5 stars Franny would have enjoyed this. All of this., January 10, 2013
By Dorothy Gibneski (Washburn, Wisconsin United States)
This review is from: Life, Death and Iguanas (Kindle Edition)
She also would have had a good time editing it . Not that it needs it - but she couldn't have resisted. It would , I suspect, have brought her moments of pain, pride and joy. I haven't seen Marc since Jack died 19 years ago. If I'd been smart , I'd have continued on with Franny. He's right. She always thought and pondered. Never pretentious and never predictable . And she had a wonderful , welcoming smile. In high school she was the mother I wanted .
As a nurse and former Hospice nurse , this was a difficult decision made by all of them. Ironically , Eric's initial qualms gave Franny , her family and friends the time to say goodbye that they all really ended up needing. The time to spend with each other in a little more natural progression I think . Over the long haul it will serve them well in spite of the tremendous pain and sorrow. I don't think Marc's going to ever totally forgive Eric. You'd have to know Marc to know how intensely angry or depressed he can be. He might get past it but not over it . Franny 's given them that chance though .. Marc writes like he talks - I just miss all the arm and hand gestures as he does so. How in the devil he remembered so much detail to recall for all of us I don't know. He's a musician though and memory is essential . I laughed a lot , cried a good bit too. . I'm tremendously glad of the portrait and history he gave us of Franny and Jack . The photos worked in so well . And I'm flat out awed that he could write of all of it . ALL of it. I was impressed by the sheer amount of round the clock care that was able to be put together to accomplish this . It's not always that easy or available despite want and it is totally necessary . This book is incredible on so many levels - anything I can say won't do it justice. Of course he's a writer. Always was . This is a beautifully written tribute. . This is a love story . Of course he was there for her. No doubt on that . A remarkable woman who stood by a gutsy decision. I hope she's strolling through her woods in the Spring.
4.0 out of 5 stars An intimate and unique look at passages, November 20, 2012
By grh
This review is from: Life, Death and Iguanas (Kindle Edition)
I have read this book with a critical eye, as I was a friend of Franny, and of her husband John. This is about her decision on how to best make an exit from a full and fulsome life. The content is both painfully honest and unexpectedly calming. There are moments when this could have flinched, describing how decisions are made, that need to be made, as life ebbs, but it didn't. The side-by-side narrative about Marc's own decisions is about right. The recollections of family discussions, traditions and curious rites are funny and touching. This rings true on every level: making hard decisions, the control over our own destinies, brotherly bonds, how a ritual becomes a memory.
5.0 out of 5 stars Beautiful, powerful, moving, November 6, 2012
By Inquiring Mind -
This review is from: Life, Death and Iguanas (Kindle Edition)
I loved this book. Three brothers, the oldest a prize-winning journalist in Montana, the middle one a successful lawyer in Manhattan, the youngest a gifted cellist, RN and English teacher in Old San Juan, and an indomitable beloved mother who lives in a cabin in the Wisconsin woods and decides it's time to die. This true story is written by the youngest brother; it is a powerful, moving and brutally honest story of living through the ruptures families must heal to understand, accept and love each other. Highly recommend!
5.0 out of 5 stars Moving and brave., November 1, 2012
By B. Newhouse (St Paul, MN USA) (REAL NAME)
This review is from: Life, Death and Iguanas (Kindle Edition)
Marc's my cousin and, as he says, is one of several Newhouses who eventually succumb to the family curse of becoming writers. Of all the writers in the family, his mother used to tell me, Marc is the REAL writer. But I had no proof -- until Iguanas came out.
I'd just gotten a Master's in creative writing when I read a draft of the book, so my head was full of all the 'craft' lessons I'd spent the previous 6 years absorbing. I was stunned that Marc seemed to have not only mastered the best of those very lessons himself, but was confident enough in his own voice and his story to bend the rules of craft when it fit his need. He moves back and forth in time, seamlessly shifting between a page-turner current story and a quieter look backward. He brings in new characters as a novelist would, each one additive to the whole and helping to drive his story forward. This final published version is even sharper and stronger than that amazing draft.
And what a story. The vivid description of his mother's brave choice to end her life on her own terms, and the tenderest descriptions of her final days and moments. But even braver is Marc's truth-telling about his own life. Lord, I admire that. Bravery and love seem, at least to me, to be the twin threads of this moving, moving story.
5.0 out of 5 stars only the beginning, October 17, 2012
By da
This review is from: Life, Death and Iguanas (Kindle Edition)
This piece is not only a touching tale of loss but a lens into gripping family tensions and love.
Mr. Newhouse has demonstrated a talent for stirring introspection hopefully he will honor his readers by revealing more of his narrative prowess.
5.0 out of 5 stars A great story of a sad hapenning., September 10, 2012
By Uribe
This review is from: Life, Death and Iguanas (Kindle Edition)
I was given a complementary copy of the final draft by the author, whom I know. What I didn't know was his great storytelling skills and mastery of the language.
Marc is a polyfaceting individual who taps on his various skills and interests, music, literature, nursing, to tell a compelling story of a momentous event in any person's life. The death of a mother. But not just any death. The conscious decision, collectivelly planned by the three siblings, to help an aging mother have the passing of her choosing.
His narrative is almost filmical. The reader is in the front row of the events of his childhood in rural Wisconsing. The formative years with Franny, his mother,and his father John and the lasting influence they, in their own ways, had on Marc and his brothers. Franny however, had a very special influence on Marc and the bond they had is a key aspect of this narrative.
He offers us a privileged seat on his journey trough sadness, acceptance and despair and the closing episodes of job loss and depression.
I think, and hope, that we are going to be hearing more about Marc Newhouse in the future.
5.0 out of 5 stars On Losing a Mother, September 6, 2012
By Mayra Martinez
This review is from: Life, Death and Iguanas (Kindle Edition)
I just finished reading "Life, Death and Iguanas" and started to cry. Through its pages, I met and loved Franny, the author's mother. I was crying for Franny and for Marc, but also for my mother. Anyone who has lost a mother can relate to the story here so well told. Reading the book is like having a face-to-face conversation with the author. It is sometimes like being there during Franny's last few days. For me it was like being in the ICU waiting for my mother to transition to her new reality. A spiritual friend told me, right by my mother's deathbed, that my dead grandmother and aunt where there waiting to lead the way for my mother's soul. I miss her with all my being. I miss her just like Marc misses Franny.
5.0 out of 5 stars The importance of unhistoric acts, September 6, 2012
By Jaime Toro
This review is from: Life, Death and Iguanas (Kindle Edition)
Life, Death and the Iguanas, by Marc Newhouse
Assisting a loved one to her death; coming out as a gay man in a world where the word "gay" is not yet available; dealing with a major depression, not without very objective causes; remembering the board-by-board construction of a house in the woods with your parents. This remarkable book walks us by these and many more events in a happy yet uncommon family. The deepest pain is hued with humor. The commonest experience is imbued with music (literally, thanks to hyperlinks to YouTube) and images. This book is an experience so extraordinary, because it is a celebration of the small pieces of life, noble and ignoble, dignified and petty, that form the thread of our humanity.
In a way, the book reminds me of the last words of one of my favorite books:
"But the effect of her being on those around her was incalculably diffusive: for the growing good of the world is partly dependent on unhistoric acts; and that things are not so ill with you and me as they might have been, is half owing to the number who lived faithfully a hidden life, and rest in unvisited tombs." George Eliot, Middlemarch.
Statistics say that living past 40 or 50 raises the likelihood of facing the death of a parent. Statistics also provide certainty that all of us, without exception, will reach death sooner or later. How and in what order and manner we reach "that good night" makes all the difference.
Marc Newhouse gives us his mother Franny, who lived faithfully a hidden life, to share. Franny lived, loved, wrote and shared life in rural Wisconsin. With her husband Jack, Franny raised three boys who took very different routes. The boys came back together after many years to help Franny die the death she chose. Yes, when the indignities of old age made clear that the remaining days (she was 89 at the time) would only lead to weakness and dependence, Franny and her sons decided she would better choose how to end, and she did.
Thus, this is a loving and respectful memoir of a death by decision, which occurred in the company of her family and friends. This is a book about the good and plentiful life that preceded the inevitable end, in the terms Franny chose. The story of the death of this extraordinary woman allows her youngest son Marc to give us a glimpse of the community of friends where Franny thrived, the retrospective of a long lasting marriage, and many hints of a very complex and often surprising woman (wait until you read about her reaction to Marc's announcement of his being gay). The experience of Franny's end brought together the three brothers, with the rivalries, memories, loves and fights siblings are wont to collect. The three Newhouse brothers, one a lawyer, one a writer, one a musician-nurse-teacher-author seem to be as different as they can be, given the fertile soil whence they sprouted.
This book is also the introspective story of gay man coming out at a difficult time and place. I am neither gay nor from the United States, but I am moved by the necessarily false but emotionally and eloquently true statement: "I was the only homosexual in Madison, Wisconsin, in 1974." Think of the loneliness. Marc Newhouse eventually found a stable relationship and even marriage (in Massachusetts, in the twenty-first century) to a Puerto Rican. [Disclaimer: the Puerto Rican spouse is a life-long friend of this writer, who also claims Marc as a friend.] Marc tells us of the development of a serious depression, and the way out of it, with pain and humor.
And the iguanas? Working in Walmart in Caguas, Puerto Rico, scenario of surreal experiences Marc savored and suffered, he would walk out to the back of the big box building to breathe, from where he would see iguanas frolicking in the sun. Not native to Puerto Rico, not charming, quaint or empathic, the iguanas give Marc a chorus perspective from a silent and perhaps absurd world. They seem to know something we don't know. Franny was that way too.
This book is worth reading, re-reading and remembering. I cannot think of a better way to recommend it.
4.0 out of 5 stars Franny's story, September 1, 2012
By GiselleB
This review is from: Life, Death and Iguanas (Kindle Edition)
The name had me from the the start. . .Life, Death and Iguanas. I laughed and cried and thought of how full a life could be and how much courage it took to share this most intimate letting go. Most of all it made me think of not when I want to depart this life, but how. A story of great love, courage and humor.
The author's mother - Franny, was one of a generation that seemed to have endured much during her life with a practical and humorous approach and so it was with her death. Marc Newhouse has managed to share his grief in the quirky stories of Franny, her family and the community she lived in.
I followed Marcs blog prior to this publication and have enjoyed in both the way he tells a story, using pictures almost like punctuation and links to expand on where he is coming from. I was sent a copy of Life, Death and Iguanas for review and would recommend that it be read on a Kindle or other e-reader - I read it on a small laptop which involved a lot of scrolling.
5.0 out of 5 stars Importance of Life and Choosing the Way One Dies, September 1, 2012
By Bess
This review is from: Life, Death and Iguanas (Kindle Edition)
Fran Newhouse chose the way she lived and the way she died and Marc, her son, made tributes to both. Dynamic, powerful, honest, and revealing describes this book. It is indeed full of love one has for his mother and allows her to die with dignity the way she wanted to. I applaud Marc and this book. Everyone should read this and encourage all states to assist us to die when the time comes.
4.0 out of 5 stars Raises a question we will ask sooner or later...., September 1, 2012
By magintob "magintob" (Caribbean)
This review is from: Life, Death and Iguanas (Kindle Edition)
Life, Death and Iguanas
An intriguing title to the first book I've ever read in the e-book format, via a complimentary copy which I received for review. Thank you Marc for the experience which "Iguanas" [as I think of it], proved to be.
This is a lively and intimate book - about family, family stories at the time of death of Franny [the author's mother] who is an interesting, eccentric old girl, dearly loved for her individuality. But it is also about her son, who loved her dearly and remembers all her sweet idiosyncrasies.
Written in a conversational style using the present tense the recollections are often humorous or at least light-hearted - which keeps it lively and interesting. Marc constantly makes unexpected leaps in his narrative jumping from one topic to another seemingly unrelated one (until the connection is clear!) So this book is never dull and never boring though it could well have been.
These are intensely personal recollections with numerous photo illustrations which revolve around saying the last goodbye to a dearly loved one, knowing it is the last time - for Franny has chosen to die.
Life Death and Iguanas raises a wrenching question which we all confront sooner or later "How could she have the death she wanted, and that everyone deserves. And Why can't we all?"
Life Death and Iguanas could easily have been a depressing and morbid story which preaches at us. Instead it is about love. And it brought tears to my eyes.